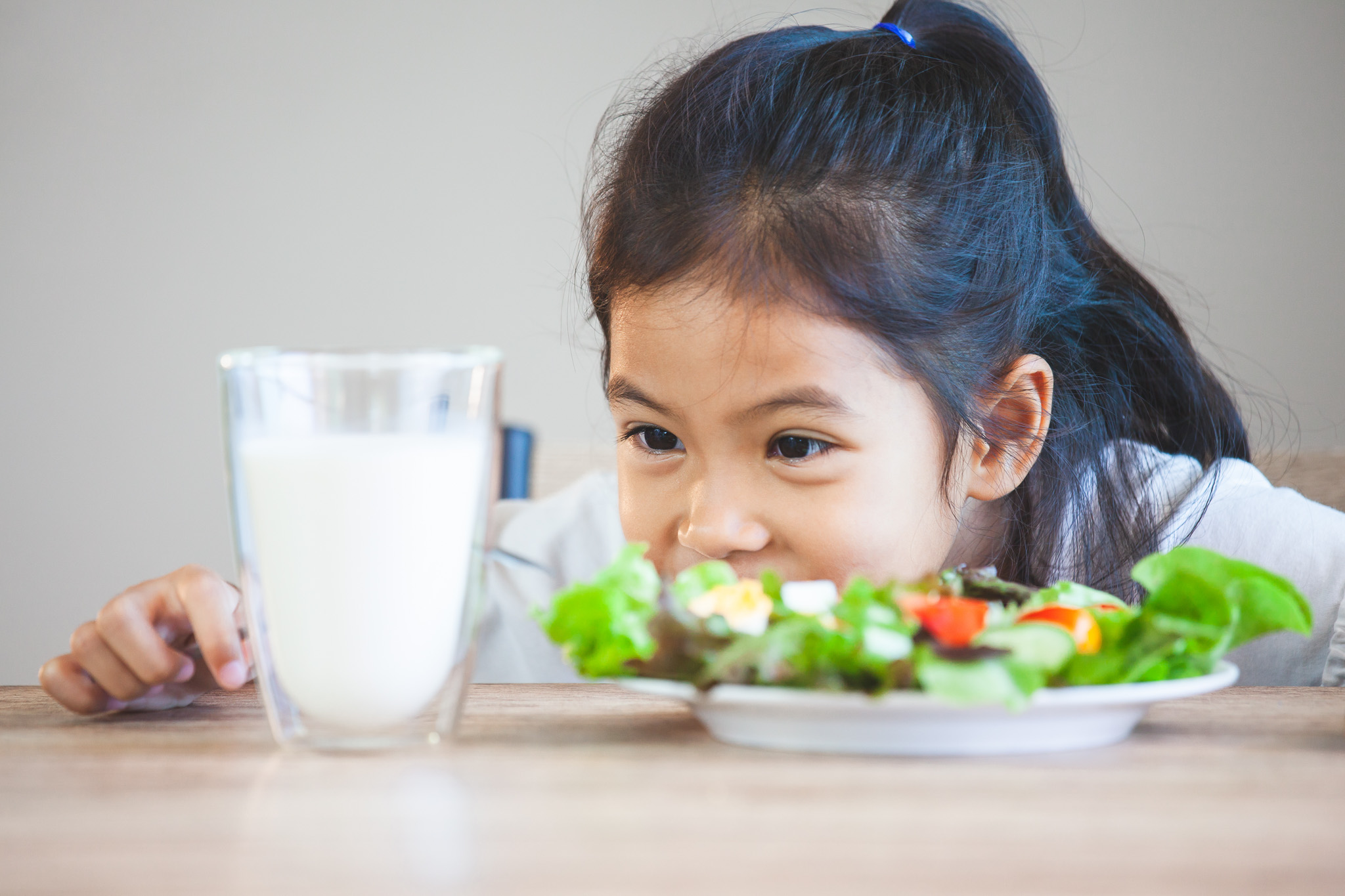 Research on childhood nutrition shows that a well-balanced diet supports brain development, strengthens bones, and boosts immunity. The foods children eat will also influence their growth. Parents should offer their children a variety of foods and food groups at each meal.
Breakfast
The most important meal of the day! Children who eat breakfast are more likely to remain focused throughout the school day. Alternatively, skipping breakfast is linked with weight problems. Skipping breakfast may lead to excessive snacking, eating large dinners, or eating late at night. Make sure to include protein, heart-healthy fat, and fiber in the breakfast meal. This will ensure stable energy levels until lunch. 
Examples of a healthy breakfast
Nut butter on a mini bagel topped with sliced banana and a sprinkle of cinnamon
Egg and avocado sandwich on a whole-grain English muffin
Oatmeal with walnuts and a glass of milk 
What if we are running late and don't have time? Quick ideas that require little prep work: a scoop of cottage cheese with a handful of berries, or a trail mix packet and string cheese. 
---
If your child is a COPC patient...
We have a class to help you reduce the pressure around mealtime and broaden your child's eating selection. 
---
Lunch
A well-balanced lunch helps your child stay focused in school for the remainder of the day. Common struggles with school lunch include lack of time for eating, low nutrient-dense school meals, and dislike of foods served. It's possible to overcome these barriers by packing a lunch, such as:      
Rainbow pinwheels: Tortilla with hummus, sliced bell peppers + cucumbers. Add a side of cheese cubes and strawberries 
Breakfast for lunch: Hard-boiled egg, whole grain waffle, orange slices, and yogurt cup
Charcuterie bento box: Low sodium deli turkey, cheese, whole grain crackers, mixed nuts, and grapes
What if my child wants to eat the school-provided meal?
Look at the weekly menu and ensure your child eats a balanced meal. If not, you can supplement the school lunch by packing a side such as freeze-dried strawberries, fruit leathers, or fruit and veggie pouches. Be sure to check the nutrition label for no added sugar. 
After School Snacks
According to the Division of Responsibility Feeding Method, parents are responsible for what, when, and where food is offered. Providing boundaries around snacking ensures a good appetite for meals. Offer two to three food groups for an after-school snack. Children should eat their snacks at a table and without screens.
Healthy snack examples
Apple nachos: Sliced apples drizzled with nut butter, chopped cashews, coconut flakes, and/or mini chocolate chips
Tuna salad: Tuna packet mixed with mashed avocado and paired with tortilla chips
Mini Pizza: Toast a whole grain English muffin, spread tomato sauce, and sprinkle with mozzarella cheese
Other nutrients to consider: Iron and Omega-3 Fatty Acids
Iron is an essential mineral that we need to consume through food. Iron helps create hemoglobin, which is a component of red blood cells. Red blood cells transport oxygen around the body.
Sources of iron: meat, eggs, seafood, kidney beans, lentils, cashews, dried apricots, almonds, and dark leafy vegetables like spinach or kale. 
Iron-fortified products: cereal, oatmeal, and whole-wheat bread 
Omega-3 fatty acids are another essential nutrient that provides anti-inflammatory benefits. A general rule of thumb is to find omega-3s through food sources before adding a fish oil supplement.  
Sources of omega-3 fatty acids: salmon, tuna, chia seeds, flax seeds, edamame, walnuts, and canola oil. 
If you need additional help with your child's nutrition, ask your doctor for a referral to COPC Pediatric Nutrition.
Source: choosemyplate.gov